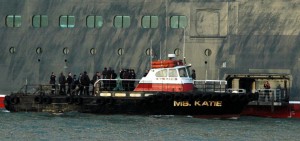 Westar Marine Services offers dependable water taxi service to vessels at anchor and offshore for crew transfers and cargo deliveries, as well as to construction projects in the San Francisco Bay Area. Our eight water taxis are both PUC permitted and U.S. Coast Guard inspected. Ranging from 41' to 65' in length, the water taxis are certified to carry from 24 to 49 passengers and are maintained in peak condition at all times.
Two facilities are available for passenger boarding and disembarking: our Pier 50 San Francisco facility and our Berth 9 Burma Road location in Oakland. The Pier 50 San Francisco facility is the preferred spot for crew runs. Pier 50's crew waiting room is open for shelter 24 hours a day 365 days a year with fresh brewed coffee, hot tea, theater popcorn and vending machines for snacks. Our East Bay location at Berth 9 Burma Road is a convenient spot for shipping agents and government officials looking for transportation to vessels at anchor from the east side of the Bay.
Our vessel operators and crew are professional mariners experienced in caretaking our customers' operations, ensuring they receive the most reliable, safe, and efficient service possible, 24 hours a day, 365 days a year.