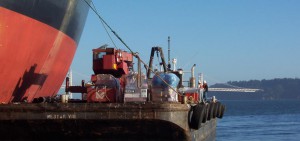 Westar provides stores deliveries to our customers' vessels anchored in San Francisco Bay or while underway. Supplies can be delivered to our warehouse well in advance of a ship's arrival. Deck, engine and non-perishable galley supplies are stored in our warehouse staged for loading; while refrigerated and frozen containers are available for perishables items. All are ready to be transported once the vessel anchors in the bay, or on-the-fly while a vessel is underway.
Rigging for lifting pallets and bins is furnished by Westar. If required, loading aboard ship can be done with our barge crane. Westar can provide experienced, trained, stores strike down crews for shipboard work. We will provide gear, including nets, slings, pallet jacks, pallet bars, hand trucks, etc. to move the stores to the appropriate compartment on the ship.
Westar focuses on safe delivery, on time and undamaged. We have a high quality control standard that allows us to ensure our customers' needs are satisfied. We are available 24 hours a day, seven days a week to assist our customers' needs. No request is too large or small.