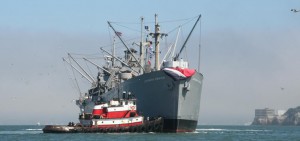 Westar provides safe, dependable ship assist, and barge and tanker escort services to vessels in San Francisco Bay from Zone 1 to upriver locations of Stockton or Sacramento, and to the down-bay port of Redwood City. Our fleet of highly maneuverable docking and escort tugs is available 24 hours a day 7 days a week to meet our customers' needs. Our experienced, accomplished operators provide expert ship and barge handling skills.
Westar has maintained a seat on the San Francisco Harbor Safety Committee since it's origination in 1991, participating in the process to develop the TANK VESSEL ESCORT REGULATIONS FOR THE SAN FRANCISCO BAY REGION. We remain committed to providing excellence in all our services by being active in the marine safety community.
Our harbor services fleet meets all the State, Federal and local environmental, safety and quality criteria. Westar's vessels have received 36 Jones F. Devlin Awards for safety and Westar has been a participant in the American Waterways Operators certified Responsible Carrier Program since its inception in 1999.