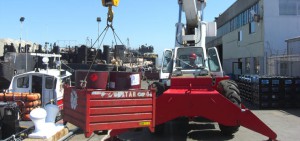 Westar Marine Services is one of the leading marine transporters of hazardous materials in the San Francisco Bay area. We are a certified HazMat Water Transporter recognized by the State of California. We are familiar with HazMat transportation and disposal and recycling regulations, methods of containment and shipping, and the required documentation and manifests. We transport hazardous materials, such as oily rags and debris, oil filters, paint-related materials, etc., from vessels in the San Francisco Bay and arrange for disposal or recycling.
Our highly experienced staff can help you make certain that your cargo is packaged correctly in order to meet the strict standards placed upon the transportation of hazardous materials. The materials are placed into DOT drums aboard the vessel and then received onto our barge or water taxi. The drums are brought to our dock and pick-up is coordinated with a disposal facility. The facility can be designated by the vessel operator or arranged by Westar.
Our staff arranges for a vessel temporary identification number with the State of California if necessary. We also complete the required manifests and ensure compliance with all applicable regulations.