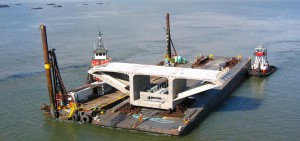 Westar provides support for marine construction companies on the San Francisco Bay and for any U.S. project we may be called upon to assist. Westar has a diverse fleet of towing vessels and barges and water taxis that have been built to cater to the marine construction industry. Westar's crews are experts in barge and anchor handling, and are experienced in safely operating in the most intense weather conditions and confined areas.
Westar's extensive experience has helped our customers coordinate complicated projects for on-time completion, within budget with a perfect safety record. A partial list of the recent construction projects on which we have participated include: San Francisco-Oakland Bay Bridge Skyway and E2/T1 Foundations, The George Miller Bridge, Richmond-San Rafael Bridge Seismic Retrofit Project; Carquinez Bridge Demolition; San Mateo Bridge Seismic Retrofit, East Span of the San Francisco-Oakland Bay Bridge Seismic Retrofit Project, and the Trans-Bay Cable Project.
Our Pier 50 facility is a prime location for short and long term dockside moorage for our customers' marine construction equipment. Our dock, adjacent apron space and warehouse are excellent areas for the staging of major marine construction projects.